◇About the Department of Civil and Environmental Engineering
Our department aims to foster leading engineers and researchers who have practical and creative abilities to contribute to a sustainable society, and to cope with major disasters. The academic program provides a fundamental knowledge and a comprehensive perspective for the appropriate planning, design, construction, and maintenance of infrastructure facilities.
For details, see about (Only Japanese)

◇Educational Program
・Courses
The curriculum of the Environmental and Infrastructural Engineering course is designed for students to strengthen and expand knowledge of environment-related issues as well as conventional construction engineering, and to learn specialized subjects of their interest in depth.

The relevance of each course is shown below. The courses offered in the first and second academic years are the basics in civil engineering. In the third and fourth years, students can systematically learn fundamental knowledge of civil engineering regardless of their specialties or their interests. Wide range of elective courses are offered for students to study comprehensively from a global perspective or to specialize in a certain field.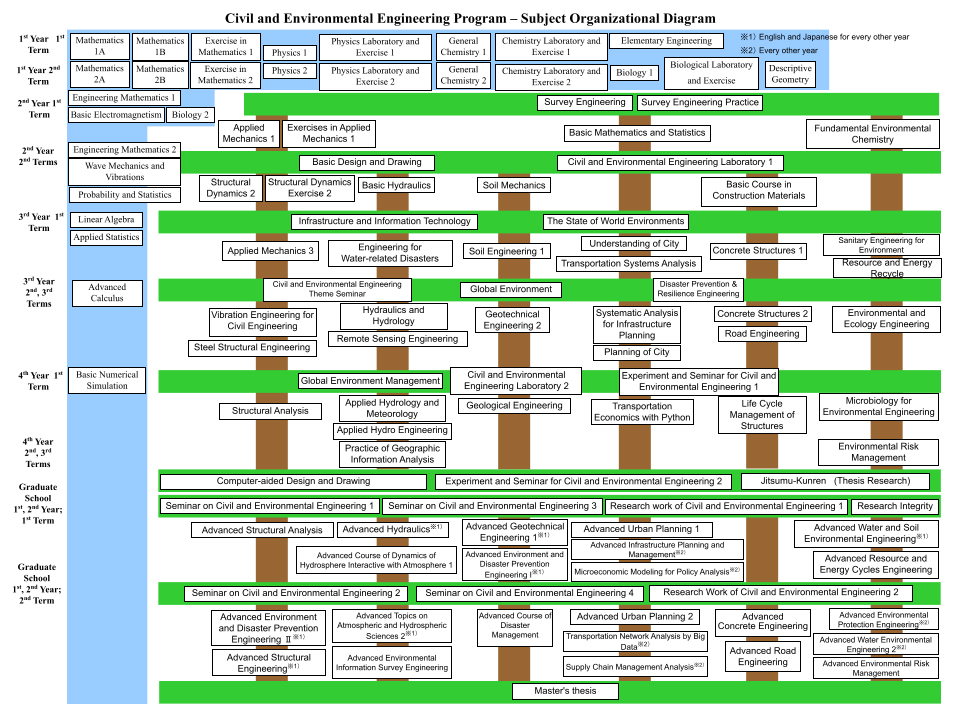 ・Internships (Jitsumu-kunren) In our program, 4th grade students who are confirmed to enroll in a master's program will take a required 5-month internship (Jitsumu-kunren, or practical training) at companies, or government offices from October to February. This 8-credit internship is provided for students to learn social demands for technology, significance of learning by interacting with active people. Based on the experience and results of practical training, the program aims to recognize basic matters for research activities and employment in graduate school, and to make a significant contribution to the creative development of technology and one's own life planning in the future.
For details, see program (Only Japanese)

・Laboratories
Infrastructure Design
  |- GEOTECHNICAL ENGINEERING LABORATORY
  |- URBAN PLANNING LABOLATORY
  |- HIGHWAY ENGINEERING LABORATORY

Infrastructure Management
  |- URBAN TRANSPORT ENGINEERING & PLANNING LABORATORY
  |- STEEL STRUCTURE RESEARCH LABORATORY
  |- CONCRETE LABORATORY

Disaster Prevention Systems
  |- DISASTER RESILIENCE AND RECONSTRUCTION SYSTEMS ENGINEERING LABORATORY
  |- HYDRAULIC ENGINEERING LABORATORY
  |- ENVIRONMENT DISASTER PREVENTION LABORATORY
  |- EARTHQUAKE ENGINEERING LABORATORY

Environmental Management
  |- HYDROMETEOROLOGICAL LABORATORY
  |- AQUA AND SOIL ENVIRONMENTAL LABORATORY
  |- RESOURCE AND ENERGY CYCLES LABORATORY


◇For More Information (University Website)